Fully functional, Completely Customizable
A gate is a common addition to any home. Whether located at the driveway, front entrance, or backyard, it is essential that your gate can perform repeatedly and without fail. We specifically designed the Knotwood gate system with reinforced, hard-wearing components that clip together and remain steadfast and stable over time.
Knotwood enclosures are a testament to the versatility of our product. They utilize the and expand on the features of our gate system to  create a structure ideal for aesthetically enclosing utility units or trash collection areas. Our aluminum slats are non-combustible, corrosion-resistant, and impervious to insects, so your enclosure will look great for years to come.
Gate & Enclosure System
Imagine making an aluminum gate without welding? Not possible right? Well, now you can. Knotwood gates use a corner stake combined with a cold weld epoxy making your gate stronger than a welded one. Knotwood's gate system is adaptable to any application from a hinged pedestrian gate to a sliding driveway gate or side door. Our gate system uses the same hidden fastening channel as the fence and screen systems allowing ultimate flexibility with your designs.
Knotwood gate components are available in 4 slat sizes, 1.5″, 2.5″, 4″,  and 6″ and 2 frame sizes 2.5″ x 1.5″  and 2″ x 4″.
For installation guidelines, please refer to our technical manual.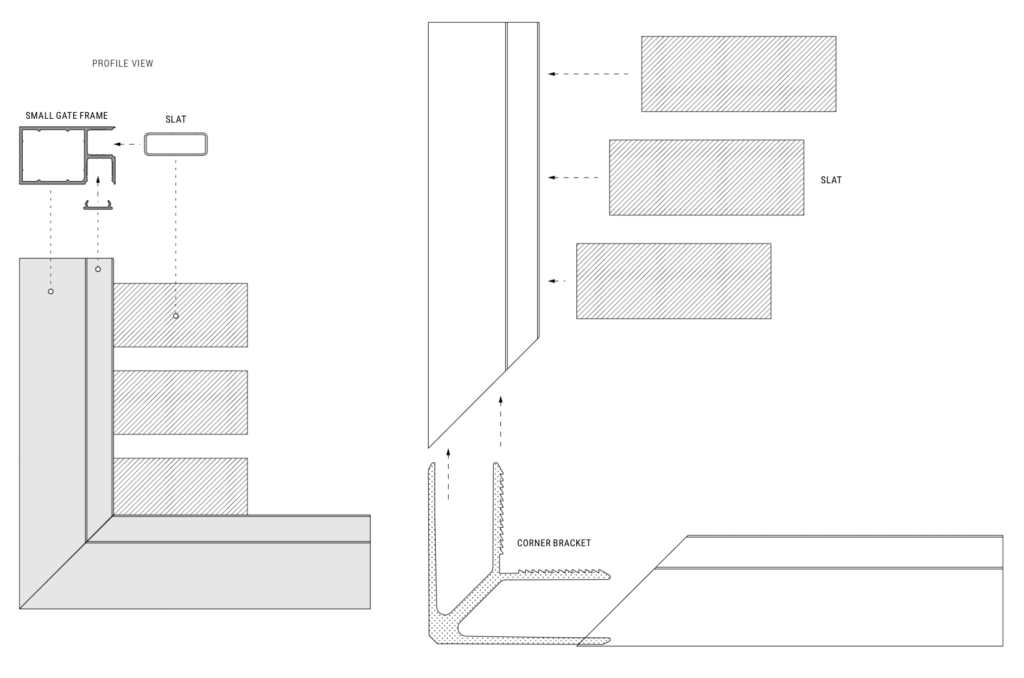 15-year Warranty
All Knotwood products come backed with an excellent 15-year warranty. We personally guarantee that our products come without defects in material and manufacturing.
Knotwood Literature
Want to incorporate Knotwood into your design? Find more information in our literature and see how you can elevate your project to the next level.
Download Here
Tech Info
Check out CAD files, spec sheets, and other technical information regarding our Knotwood aluminum building systems.
Technical Resources